jun 1 cards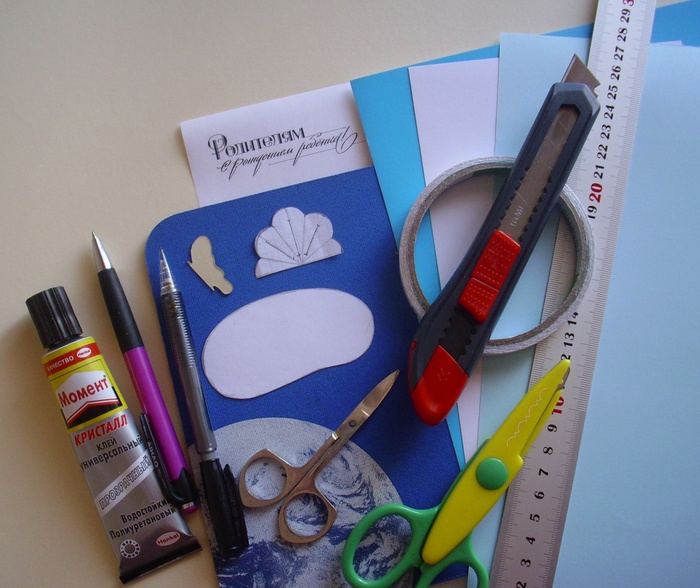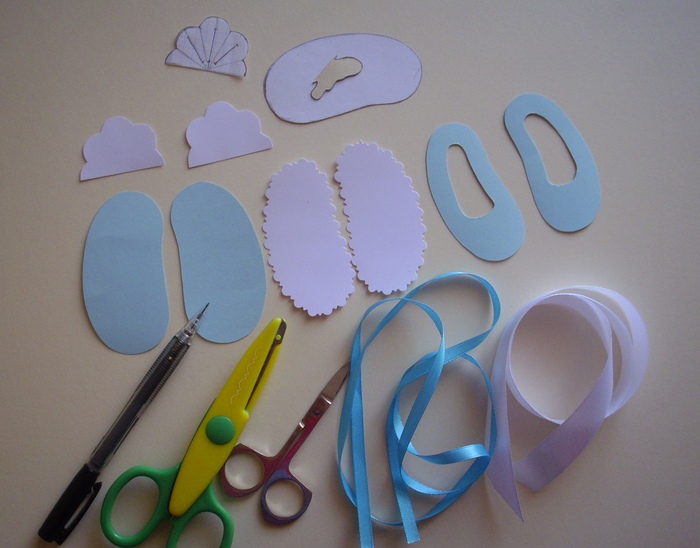 2. Template-cut blue sole booties, size 8x3 cm, scalloped scissors from the white paper - middle, and upper part of booties booties with holes (in any size and shape). The upper part of booties better to cut slightly smaller than average, for a better view of figure region. As well as delicate reed white.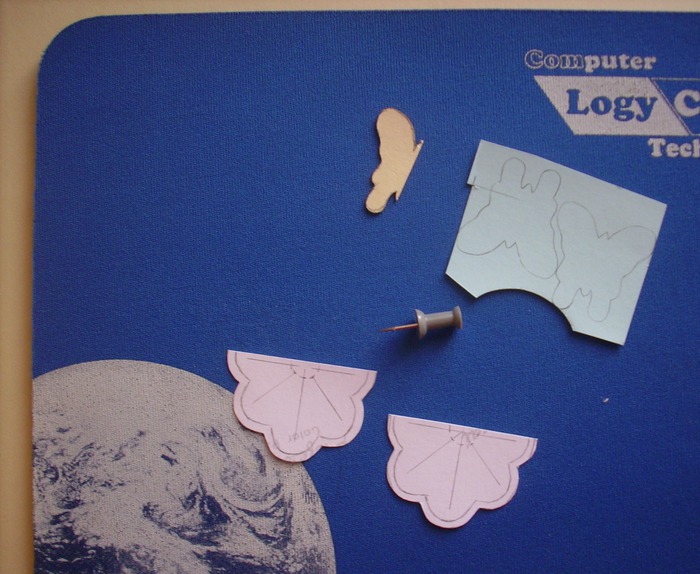 3. From the inside latch to identify the line, stepping back from the edge of 2 mm, and central lines of each circle.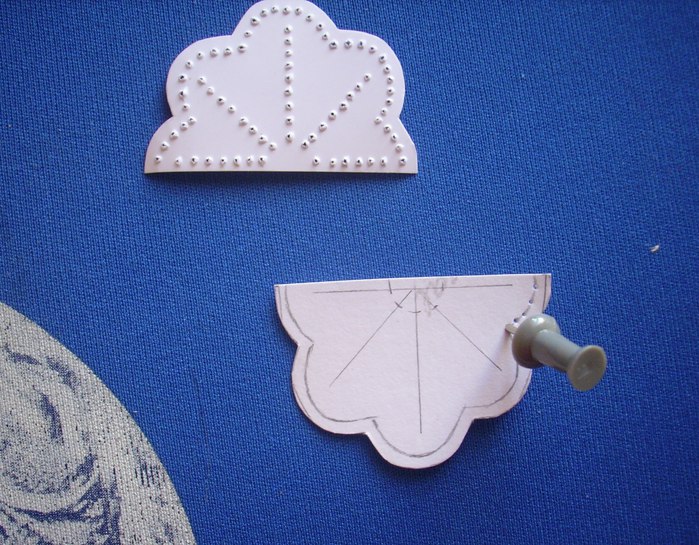 4. From the inside latch needle puncture holes 2 mm apart. Better puncture holes from the inside to the face, because growing openwork effect it:)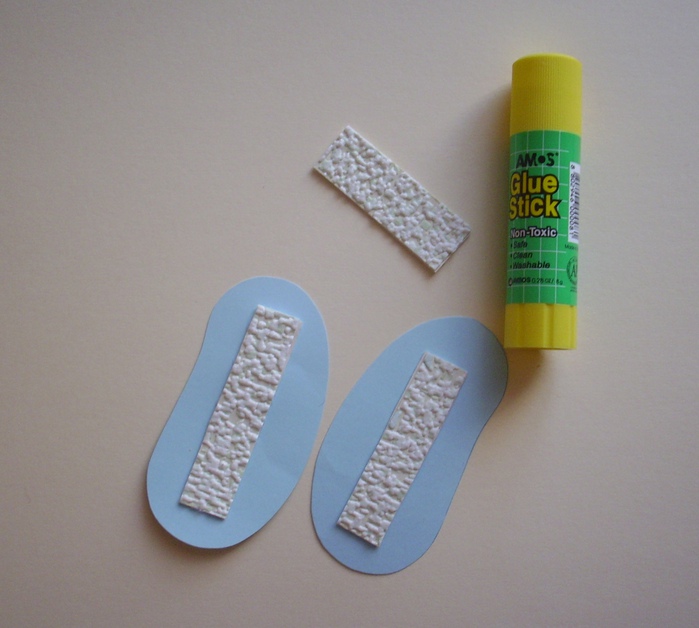 5. All parts of booties double-sided tape to glue on the foam-based to effect it 3D. This tape can be replaced with foam wallpaper surface, but in two layers, combining paper-based parties.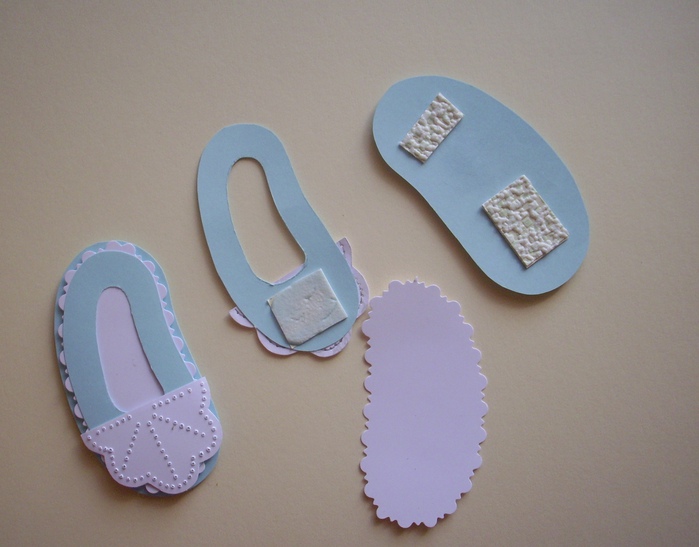 6. Openwork upper part is not necessary to glue on the tape, she looks so pretty volume.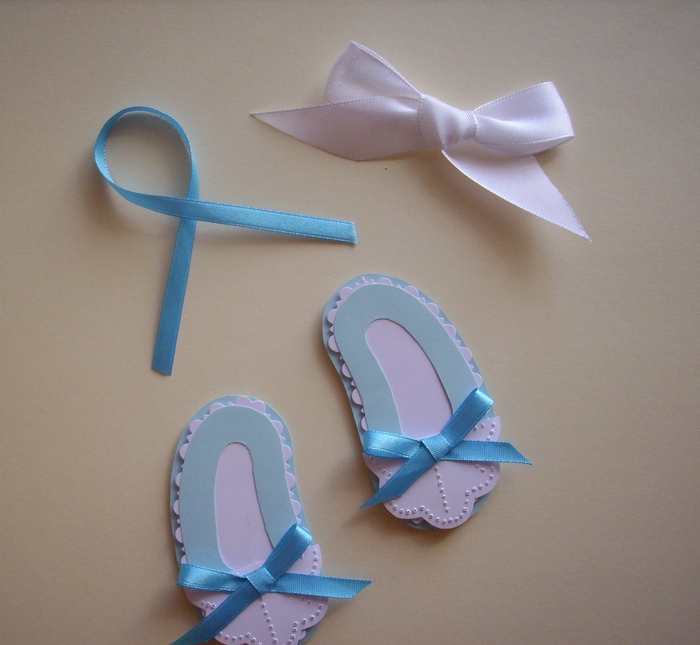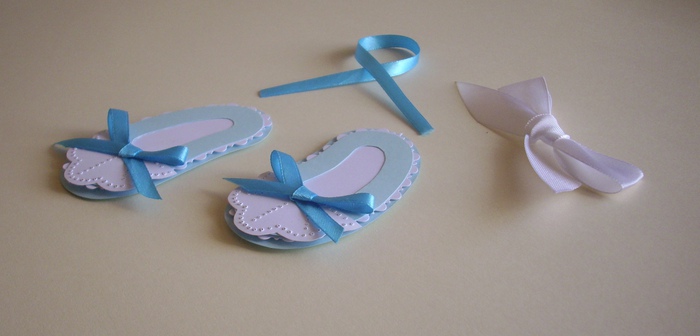 7. Separately tie blue ribbons and ribbon length 14 cm white ribbon from a ribbon wider. Little blue ribbons stuck on the openwork of the booties.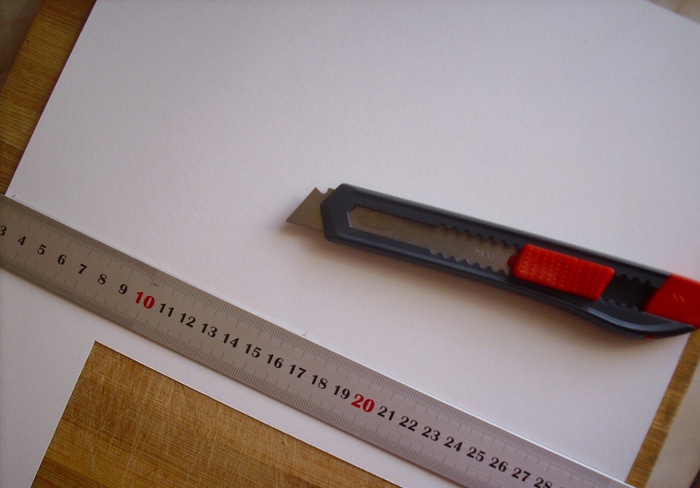 8. From the blue of cardboard (I have a white underside) cut the size of postcards based 29h19. For this purpose, the markup impose a metal ruler and hold the bureaucratic knife.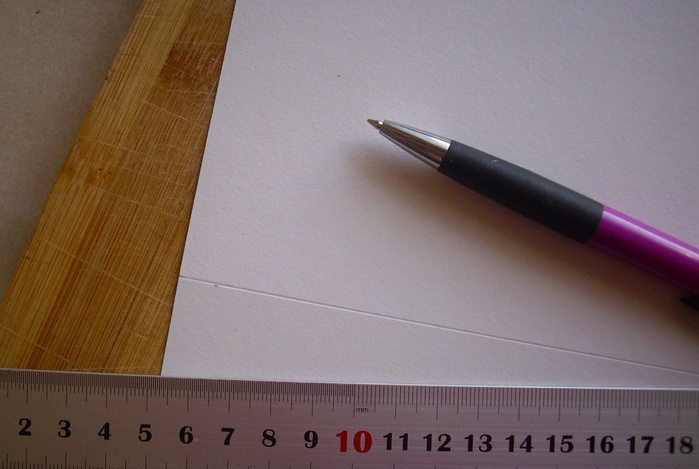 9. The center of the framework for a good half fold greeting cards, hold a ruler nepishuschey handle.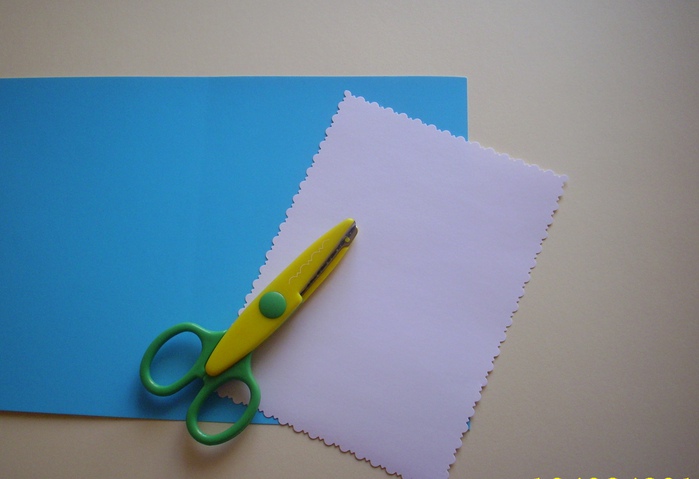 10. White cardboard with scissors cut out the background figured dimensions 12,5 x17 cm on the basis of sticking to the double-sided tape, glue for strength promazyvaem, you can pencil. If the glue - to anoint a pencil on the tape, it will be possible to move the item because Scotch tape adheres to the surface immediately and correct, if the curve is imposed, we can not (!)
11. Cut the printed label and a blue background a little more. Paste the label on the background.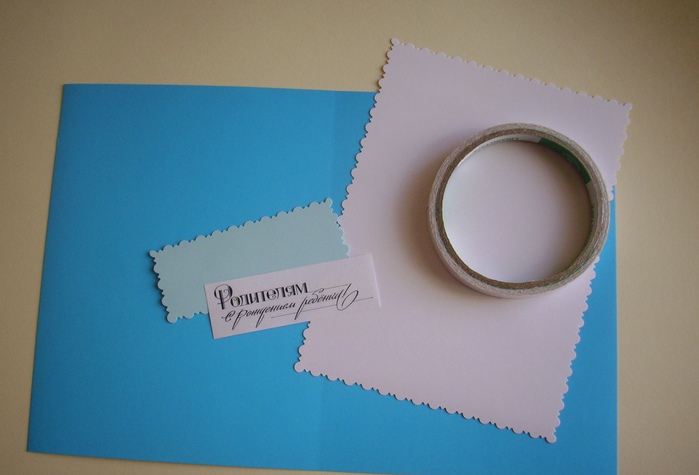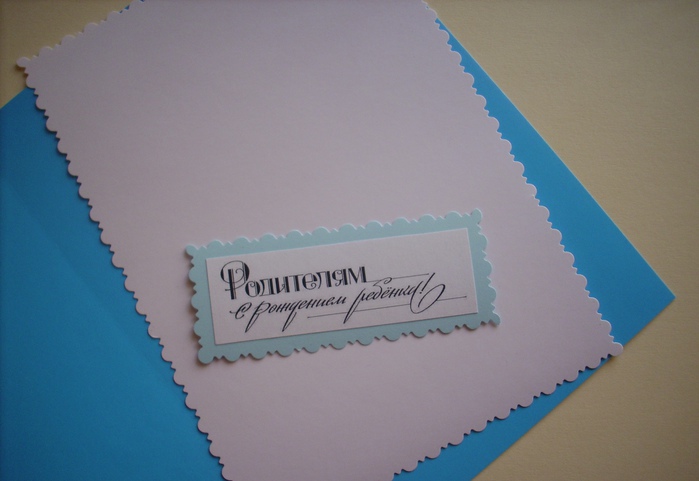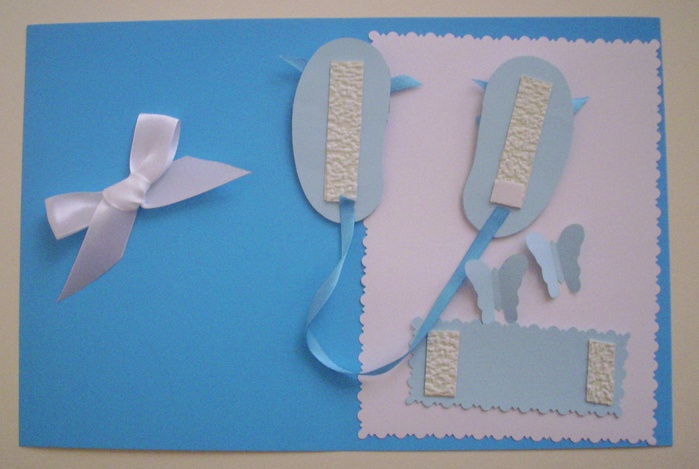 12. Glue the ribbon on the booties tangled at times. Inscription gives volume with adhesive tape on the foam base.
13. Well, all the details prepared, you can begin to assemble cards.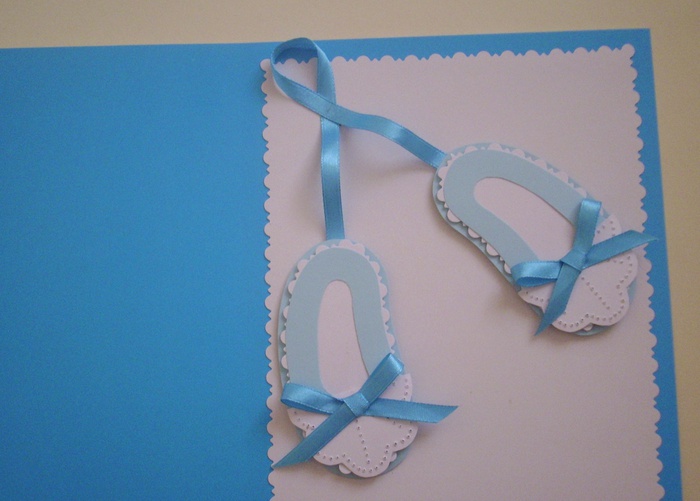 14. Anchoring booties (a tangled ribbon itself lies right), with the tips of the ribbons turned up. In place of the crossing ribbon Glue bow, booties fasten under the label and in any order fasten butterflies.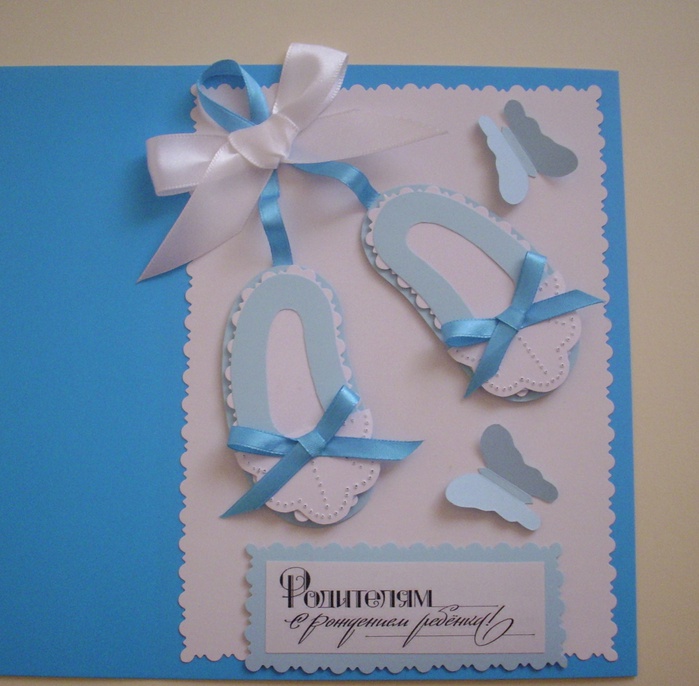 15. If you prefer, you can decorate your butterflies strazikami and mid-Cards - paper tape with scalloped edges (for example).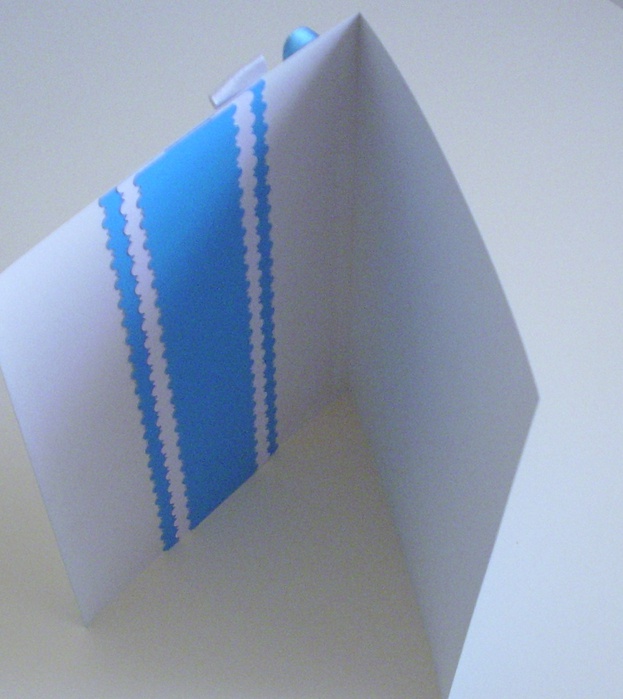 16. A little patience, a little more desire, and all must come out. Good luck! I hope my MC will be useful for you.