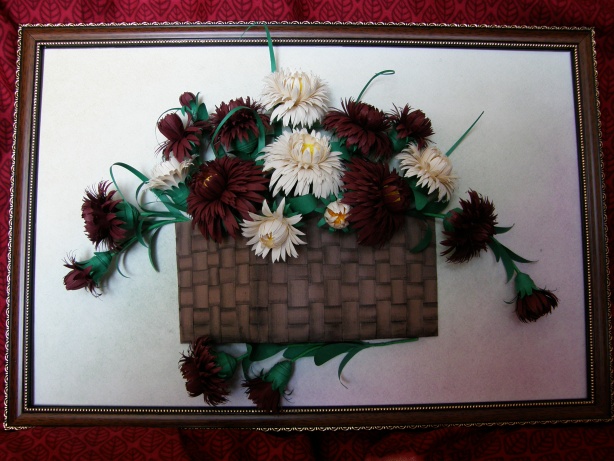 Flower paper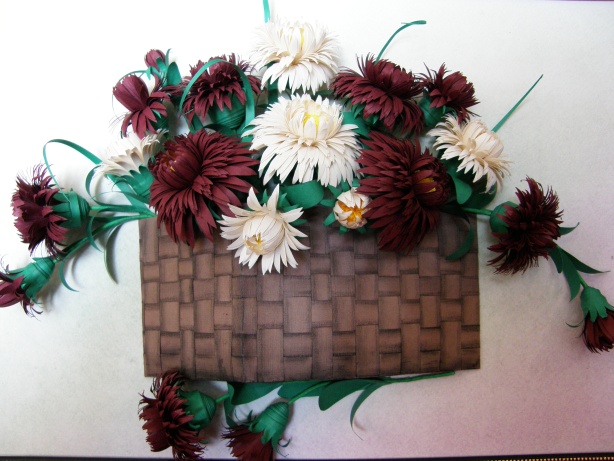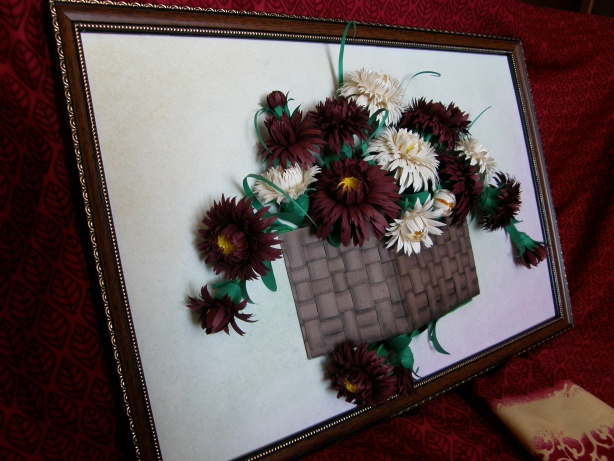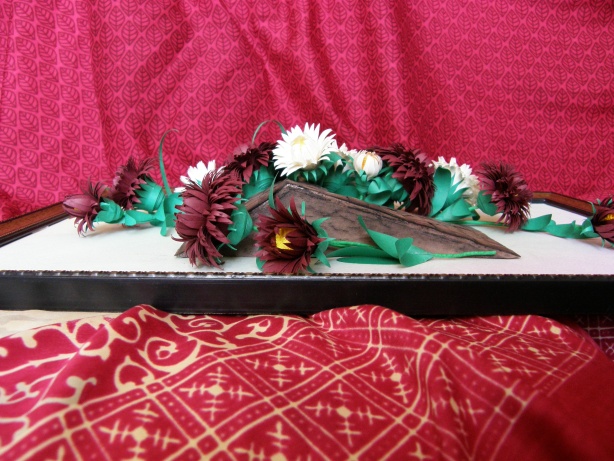 And a small IC on me.
In my songs there are two sizes of flowers + buds. For the large flower will need:
a) for the midway - yellow stripe width. 1.5 cm long. 30 cm, cut into small fringe
b) for petals - 3 strips of your chosen color (I have a burgundy and milk), width. 2.5 cm long. 30 cm and a band width. 3 cm long. 30 cm, cut "fence." How convenient it cut, I told here http://www.liveinternet.ru/users/4018134/rubric/1830476/
Attention! Width of the teeth on strips of width. 2,5 cm - 3 mm, and a strip of 3 cm - 5 mm.
c) sepal - 6 green bands (note: the photo I made a mistake and put all 5) wide. 0.3 cm long. 30 cm + band width. 2 cm long. about 7 cm, chopped curly teeth.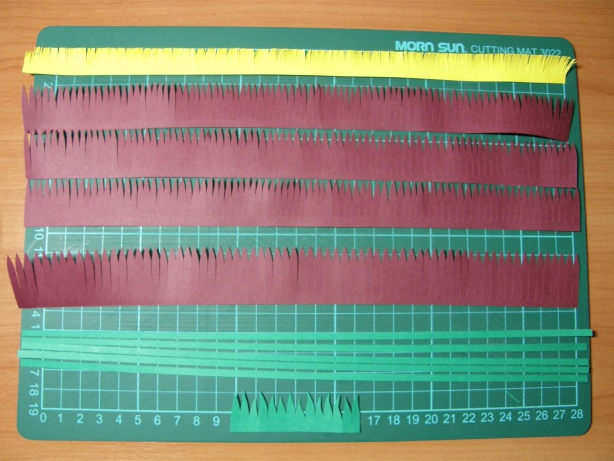 Yellow fringe midway to minimize, not raspushivat; "fence" for the petals using scissors tweak; green stripes for sepal twist into a tight roll and glue decorative "fence", previously too twisted pair of scissors, then two thumbs gently squeeze the roll to get as to a plate inside for strength fluff glue.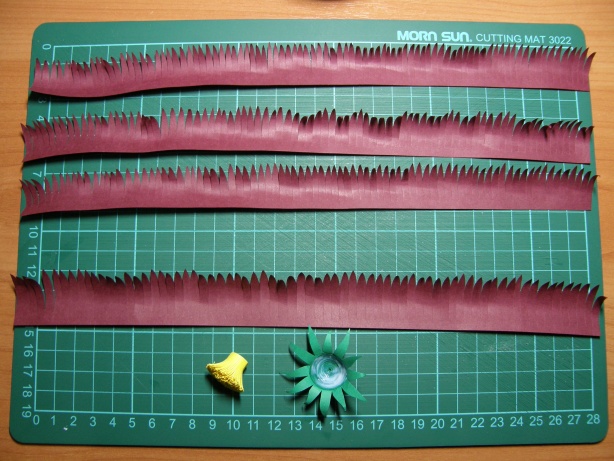 Glue the front page of "fence" (width 2.5 cm) to the middle. Petals should be wrapped in direction. to the center of the middle. Glue better promazyvat piecemeal so as not to get dirty. In this flower is easy to handle so he was upside down. So you can control the smooth edge gluing.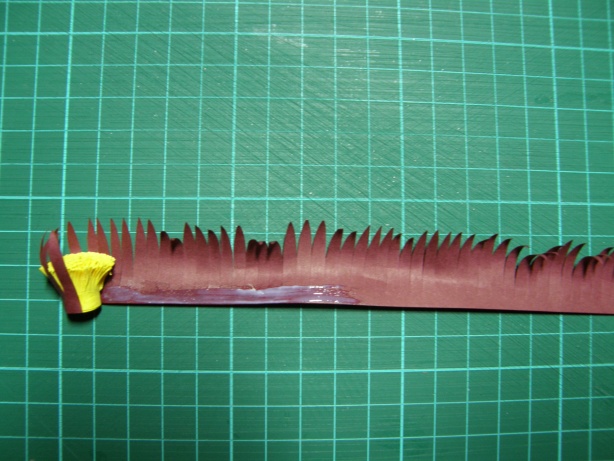 Second and third band width. 2.5 cm, and the band width. 3 cm is glued so that the petals are wrapped on the contrary from the center.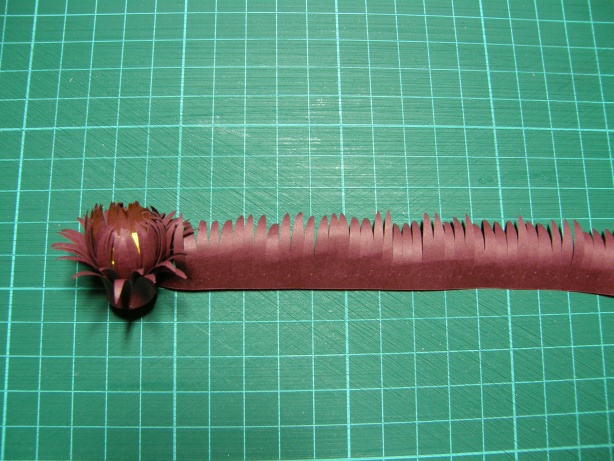 Ready flowers fluff, slightly reveal the middle.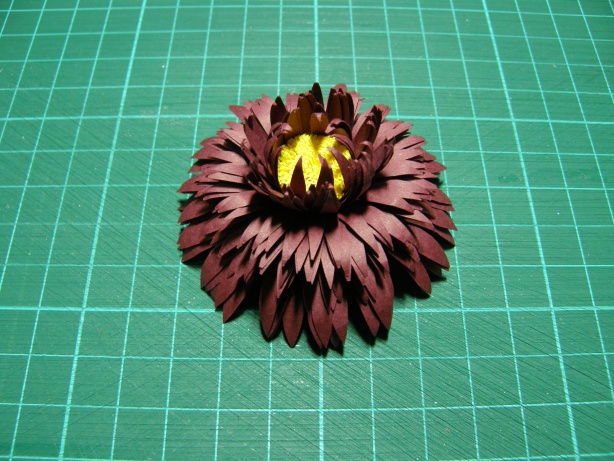 Flowered flip, pour glue on top fasten sepal.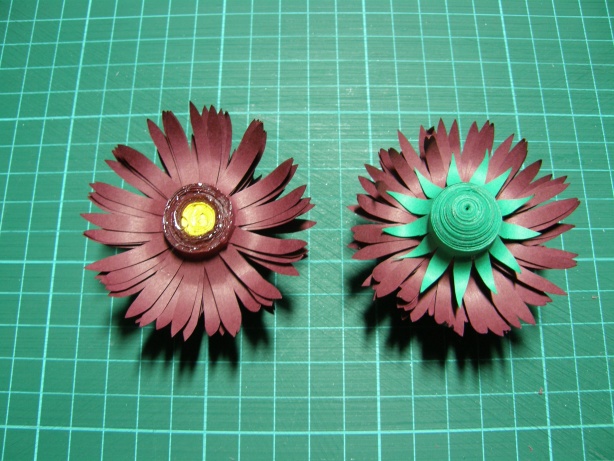 It remains to insert a stem of wire wrapped gofrobumagoy to which are attached leaves of arbitrary shape.
Astrochka smaller size is similar, only it does not need a band of "fence" wide. 3 cm, number of lanes for sepal not 6, and 5.
For the bud would be sufficient to midway 1 / 2 of a yellow fringe and 2 strips "fence", petals, one of which will be aimed at the middle, and the second - from the center.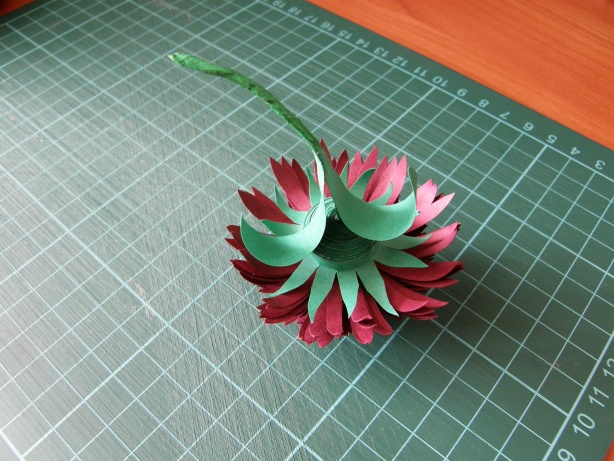 That's probably all. Girls, I hope I satisfy your curiosity and be useful to you! Good luck to all, inspiration and positive mood! And with the first day of spring everyone!!