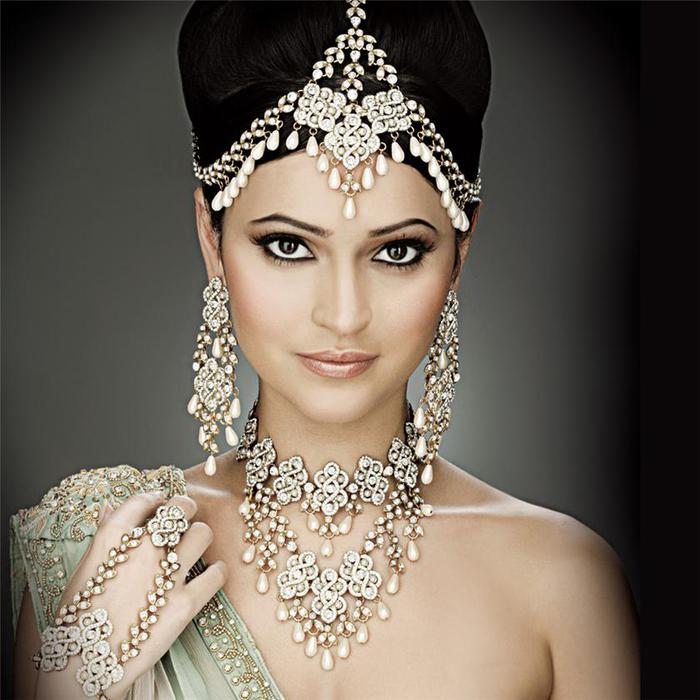 ---
Ornaments made ​​of gold, silver, copper, bronze, tortoise shells, pottery, ivory, pottery and beads of semiprecious stones and precious metals such as carnelian, lapis lazuli, turquoise, amethyst, gold, silver, etc.
different forms were found in Harappa, Mohenjodaro, Kalibangane, Lotale, Ropare and other excavations of Hindu civilization.
Jeweler to the Indian plains, he knew how to make molds for metal and terra cotta ornaments, how to make thin sheets of gold, to prepare alloys of copper and silver and gold, gold solder, applying the molten metal.
For ornaments with spring motifs he used a thin wire of silver and gold.
The surface of thin sheets of gold, silver and copper, he was decorated with ornaments, made ​​by stamping.

The oldest form of jewelry made ​​in India - this is jewelry made ​​of pure gold 24 carat of Kundan.
Kundansky way to tack gems was to install a gold foil between the stones and castes.
Jewels of Kundan were widely within Mugalskoy era, and the most fascinating articles were created in those times.
'Mena Kundan' - a work of art enameled with brilliant colors and designs, made ​​on the back of the jewelry, along with Kundan, who were on the front side.
'Mena Kundan', also known as Bikaner or Zhdaipuri.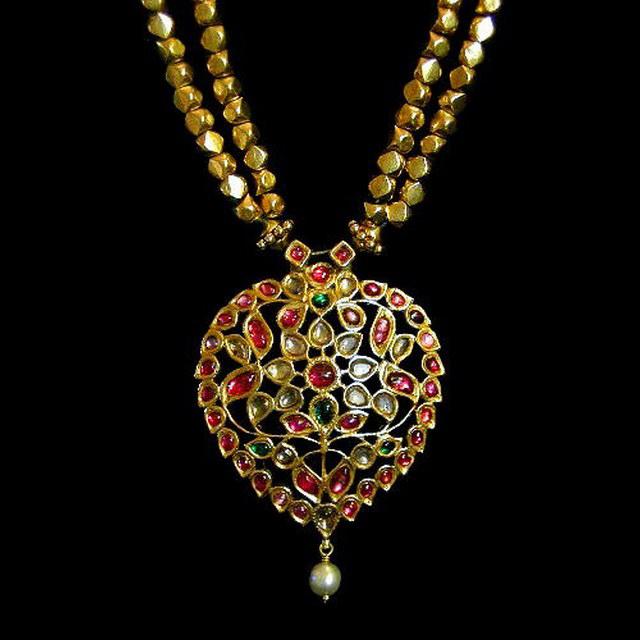 The art of enamel Menakari has always been a traditional handicraft of India.
Enamel is basically superimposed to check the quality of gold, as the proverb says: "The more pure gold, the more colorful enamel.
Therefore, to enamel was the best kind of gold should have been the highest purity.
Decorating Kundan combined with enamel so that jewelry had two equally beautiful surfaces - one decorated with precious stones and enamel second, rear.
One of the reasons that the enamel is preserved is that it never came into contact with the skin.
Necklaces were placed on strips of velvet, which not only gave greater comfort, but also prevents the enamel from friction with the skin and thereby save it.

A wide range of motives - this is what, among other things famous Indian jewelry manufacturing.
A distinctive feature is the diversity of floral and animal motifs.
Different motives of bright colors and intricate shapes are born under the influence of admiration abundant beauty of Mother Nature and tenderly cherished Indian craftsmen for centuries.
Floral design - one of the most popular motifs of Indian jewelry.
Earrings Kanphul - the image of a flowering plant, motif and symbol of good luck and prosperity.
Pipa Patra in northern India and Gujarat have the form of sheet, which depart grapes figs (pipal).
It is a symbol of wealth and abundance.
Champa, jasmine flower, is a symbol of fertility.
Motive Champakali - jasmine buds components necklace.
Pendants in the shape of a bud are connected by a thread.

worn on the wrist, and at the base are also floral motif.
Gadzhra made ​​of gold and pearls.
From a distance decoration looks like instead of gold wire, used golden grass.
Paunchi made ​​of many parts in the form of a flower.
They are joined together to form a bracelet.
In the Indian jewelry has its own distinctive features that make them recognizable and unique.
These products are symmetrical.
Despite the variety of stones of different colors and a mix of different materials, they have no disorder.
Holiday life Indians are closely associated with dance, and jewelry has always been a part of ceremonial dress.
Therefore, they possess a sound, musicality.

Ornaments on the hair between the parting.