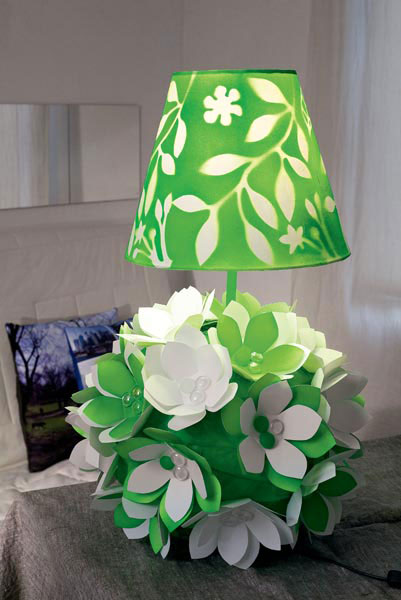 Weed can be not only the streets, squares and parks, but also its own interior.

For example, decorate it with a lamp-flower bed with double plastic flowers.

lamp on a long stem with a white paper lampshade

round rice paper lampshade

spray of green acrylic paint

acrylic lacquer

white plastic

Stapler

glue

decorative glass stones

1.

Since the round lampshade is made of fragile rice paper, to strengthen its acrylic varnish and leave to dry for 20-30 minutes.

2.

On a sheet of paper make a sketch for stencil.

Three sheets of thin plastic adds together with a sketch, held together by staples and cut out the pattern on a path - we can do it once a few stencils

4.

Slices of bilateral tape to fasten stencils shade.

5.

Both paint shade in green, spraying paint evenly - it underscores their paper bill.

Lamp base is also covered with green paint.

6.

Drawing on paper sketches of flowers in two sizes - bigger and smaller.

Binds several sheets of plastic with a sketch and carve.

Turn down the petals to give the color volume.

7.

Half of the flowers leaving white, paint the rest of the same green paint along with part of the glass stones.

Add up the flowers by placing a smaller to a larger and alternating colors: white, green, black and white, green, and green.

Holds them together with glue, placing in serdtsevinku each flower with three decorative stone.

8.

Putting the lamp: remove the upper lamp shade, at the foot put on the bottom, fix it and return the upper wire lampshade in place.

9.

Sticking flowers in the round lampshade in a random order, filling its entire surface.