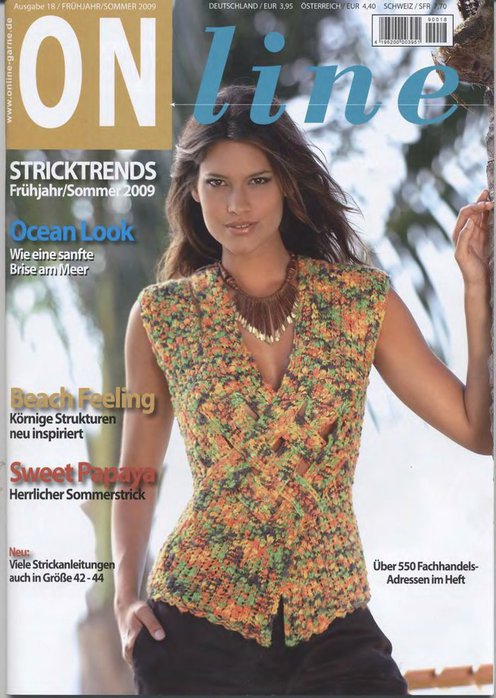 Size.
36-38, 40-42.
Material:
Yarn Linie 238 Bagno (55% cotton, 45% viscose, 50g/105m) 300 (350), the
Spokes № 3-3,5.
A set of
crossed loops double thread.
The basic pattern is:
multiply the number of loops 5 +2 Edge.
1-d p.: Chrome. * 1p.lits., 1 yo, 3p.
together persons., 1 yo, 1n.
persons., repeat across from *, chrome.
In the even rows provyazyvat all the loops and yo backside.
Repeat 1-2ryady.
The density of knitting:
20P. × 28R .= 10 × 10cm.
Description.
Back:
dial crossed a double-filament loops 97 (117) n., Work 1 izn.
p.
izn.
loops, then knit the basic pattern ..
Through 36 (35) cm for the armholes on both sides to close 1 time po10 (15) sts and continue knitting in 77 (87) n.
at a height of 56cm to close all the loops.
Halves shelves:
47p gain.
crossed a double-filament loops, 1 izn.
p provyazat izn.p., then continue the basic pattern.
The work is divided across 12cm = 16/15/16p.
and knit separately three strips of length 21 cm = 60r.
Work delay and link mate shelves in the same way, but symmetrically, at the same height.
Strip twist, as in the diagram, then each half to finish shelves separately for 47p.
At a height of 56cm, the last person.
Not to perform a number of yo = 29p., Loops close.
Assembly:
perform shoulder seams, with the focus on the wide shoulder on the shelf at the back of the average 10cm free to leave - the neck.
If necessary, tie the armhole.
For this type of armhole edge loops, Work 1 persons.
number izn.
loops and 1 izn.
number of individuals.
loops, the loop closed.
Stitch side seams.