Tutorial Tuesday: Hair Bows
I found this super cute, and EASY tutorial at Savvy N Sassy which is a fun place to find all sorts of things to do with ribbon. Definitely worth a trip over in their direction. So many projects you could do. And if you're like me with a stash of ribbon that's too good to throw away, it puts them to good use.
Supplies Needed
:
-Ribbon (grosgrain works best)
-Thread
-Large Needle
-Hot Glue Gun
-Ribbon/Fabric Scissors
-Lighter (or fray check or similar product)
-Barrette Clips
-Aligator Clip (optional)
1. Gather your supplies. If you don't have thread that matches perfectly, don't worry about it. Thread your needle and double the thread, tying a knot at the end.
2. Make your first loop–this will determine the size of the bow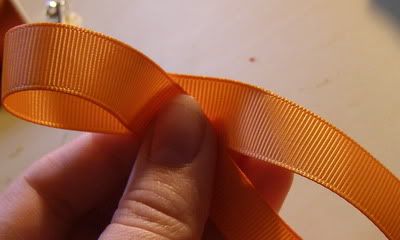 3. Continue to make loops, crossing the ribbon back and forth. You can do two loops, three, or more!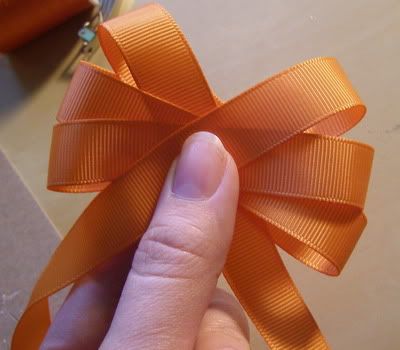 4. I use an aligator clip to hold the bow, while I get ready to stitch.
5. Find the center of the bow and work your threaded needle all the way through.
6. Push needle through the bow and then pull on the thread to gather the ribbon. When you get it gathered as much as you want it, wrap the thread around the stitching several times until you know that it won't move.
7. Secure with several stitches through the back of the wrapped thread. When it's completely secure, cut off the excess thread.
8. Cut off excess ribbon at an angle and make sure both tails are the same length
9. Use lighter flame or fray check to seal the edges of the ribbon tails.
10. Pop the "spring" part out of the clip.
11. Apply a line of hot glue to the back of bow.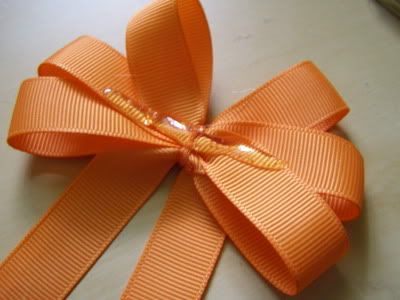 12. Immediately press clip into hot glue and set aside (do not play with this or touch anything for a few minutes–otherwise you'll get those annoying "strings")
13. In the meantime, tie a single knot in a small piece of ribbon (this can be the excess you cut from the bow, or a contrasting color)
14. When the glue is completely cool, put a small drop of glue in the center of the clip.
15. Stick on one end of knotted ribbon.
16. Apply another dot of glue on top of the glued end wrap the other end of the knotted piece over and adhere.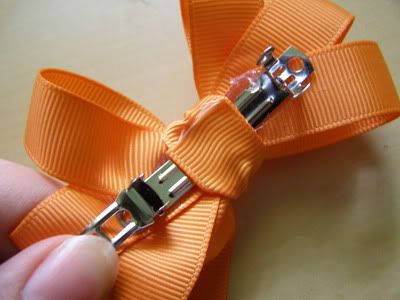 17. Once glue has totally cooled, pop the "springy" part of the clip back in and you're done!
mytinysweetcheeks.blogspot.com