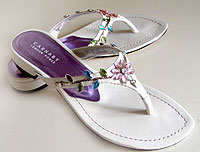 In the summer, especially on vacation, I want to constantly change outfits.
Smart tops, tunics light-hearted, sexy shorts and skirts nice little ...
It would be nice to have more shoes to every dress.
Maybe you should not spend money, and take with you on holiday exclusive, created their own hands?
Passion.ru lover offers hand made to transform summer shoes!
Making Summer slap some variants removable decor.
If the shoes have any decorations, they must be removed.
Crarfts for summer: Decor summer sandals tutorial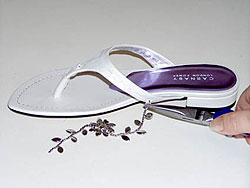 In this case, were very convenient eyelet for attaching decorations, you just insert them into the metal rings for easier use.
If you are not so lucky - no loops - contact the studio metalloremonta, and the wizard will do little pins with rings, or sew loops, using an awl, of cord, leather or metal.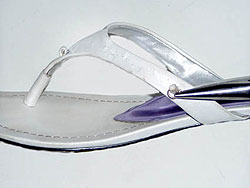 Cut a piece of tape in the form of a beautiful Ryusha, in the middle make a few loops to add volume.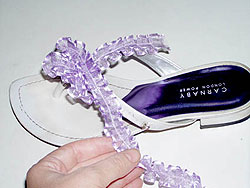 Secure them with decorative flower.
On the reverse side of decoration sew three clasps for necklaces, pre-specifying the distance between them with the fitting.
Fasteners mount so that the tape was stretched hard enough, she would wear a stretch.
If done correctly, the decor will be kept securely.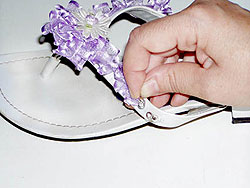 Similarly, make a removable decoration of various beads, stringing them on silk thread in several rows.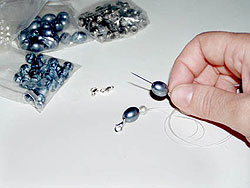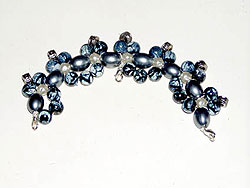 Or decorations of beads and coins.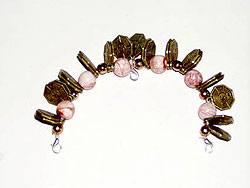 Strengthen removable ornaments on the spanking can be, not only with buckles.
Sew or glue on the surface membrane of sandals or pantolet one side of the "Velcro."
On the other side sew a piece of cloth or leather with the decor.
Fix the decoration so that it covers the entire surface of the "Velcro."
Such details can make any number.
The only "but" - Velcro gives the volume, and it is not desirable to use a narrow membrane shoe.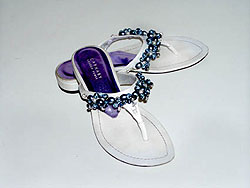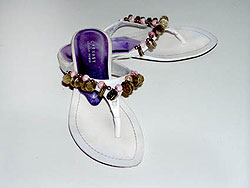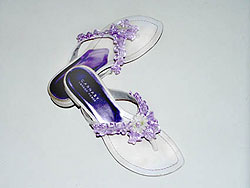 Turn on your imagination, use a cloth, cord, fringe, lace, leather, shells, rhinestones, buckles, buttons and any other accessories.
And you can change the decorations on the shoes depending on the outfit!