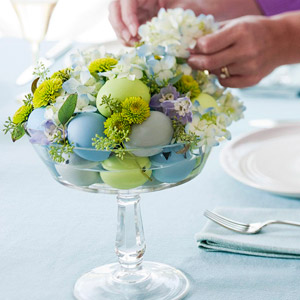 In Easter song chosen flowers bright, but preference is given to the classic varieties, without being too bright colors and original forms. In color composition should be designed in the tradition of Easter, taking into account the symbolism of color: white, yellow, gold - the colors of spirituality, light, clean, green - the color of hope, light blue and dark blue - the colors of the sky, faith, red - the color of life and rebirth.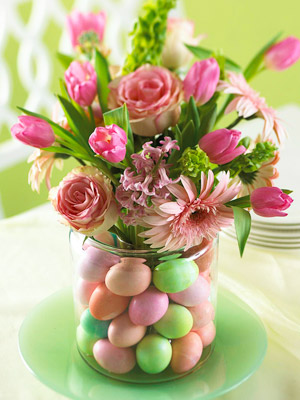 Gift for Easter: Easter flowers

The most popular Easter flowers are hyacinths, tulips and daffodils, symbolizing the resurrection of nature after the winter cold, as well as roses and carnations, which are traditionally considered "colors of Christ." They adorn the tables, cakes, Easter wreaths, icons. Exotic flowers are rarely used on Passover, because for all its beauty, they do not comply with the spirit of this holiday.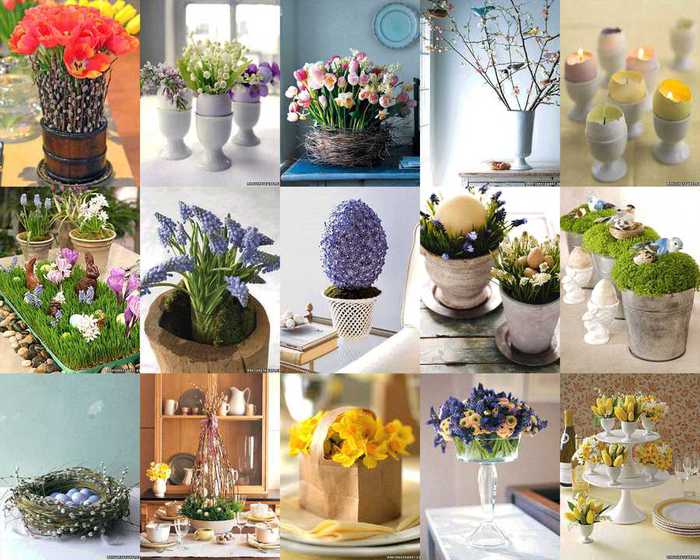 Easter bouquet often going round, with feathers, shells, palm had the figures of birds, chickens, and various birds. Very popular bouquet that is going on a frame of branches, resembling a bird's nest.Willow twigs gathered into a bundle, adding parallel, take both ends and twist in opposite directions along a spiral, then record just above the middle. Top in the middle put a small vase of spring flowers.
Recently accepted to do flowers on cake. It is usually small in size with a single flower and greenery.These flowers are collected on a hairpin, usually wooden, on which he was then fastened to the cake.
Unusual Easter table decoration can be in the form of compositions and eggs. Egg-shaped form can be cut from a piece of oasis, and decorate with flowers or make a frame made of papier-mache, and then glue flower petals, leaves and other decorative materials.
The most common colored eggs can also become part of the Easter decorations, if they just put a song of spring flowers. At Easter bouquet is typically used only a hollow shell (raw egg doing a two small holes at opposite ends and blow the contents), which provides ease and convenience of their fixation.
Wonderful, besides the traditional complement to spring flowers will be green carpet of grass young.Can be used for this purpose wheat or other cereal, but it is old, oats symbolizes eternal cycle of life and springtime renewal of nature. The week before Easter Sunday put a handful of oats in the damp low pot or bowl, cover with a wet rag and put in a warm place. Make sure that the tank contents do not dry out. Appears also not forget the grass watered, preferably - to spray from the sprinkler.
There is another, more "solid" way. 7-10 days prior to Easter at the bottom of the dish sprinkle 1-2 cm in the land, which is slightly wet, sprinkle on top and grains. Over - even 1 cm of the earth. Planting pour, but gently, and put in a warm place, such as a battery. Make sure the ground was always damp.
Source: florist.ru