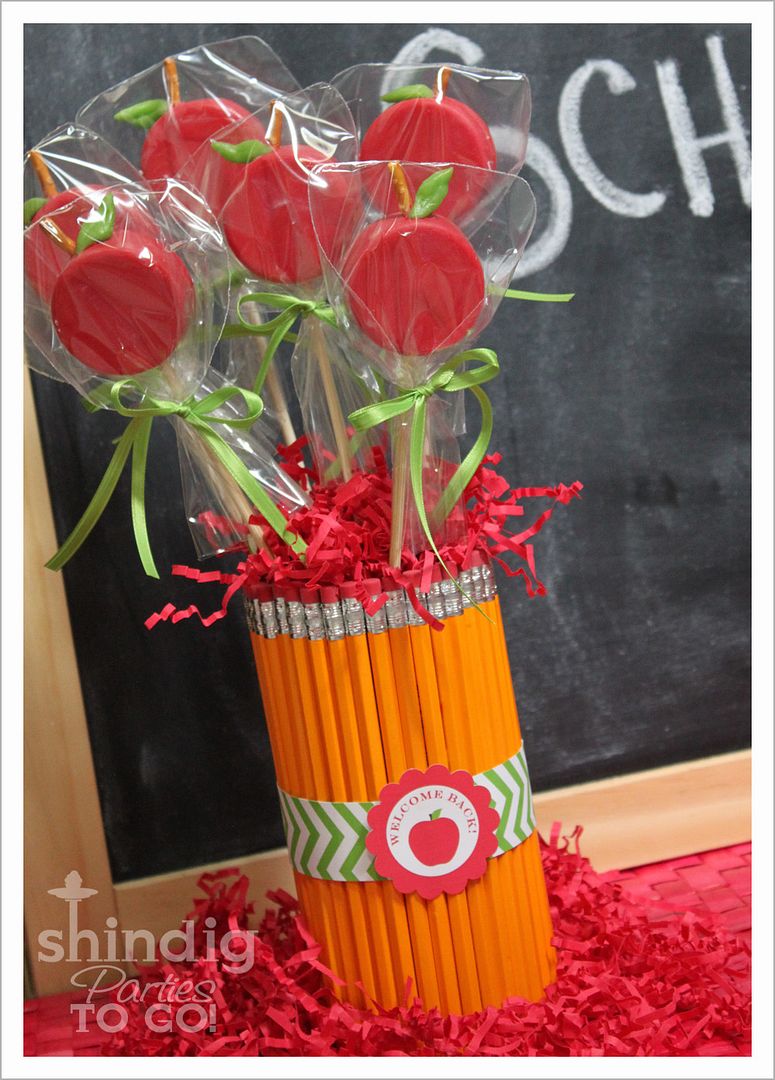 These are much less difficult to make than they look with the help of Chocolate Covered Oreo Molds from Spinning Leaf.
I must say these are the easiest and most amazing tools for making a professional looking cookie in minutes.
Recycling ideas: Oreo Apple Pops, kids craft ideas
CHOCOLATE COVERED OREO APPLE POPS
- Plain chocolate covered Oreo molds from Spinning Leaf
- Wilton Shaped Party cellophane bags (I bought mine at Walmart)
- Wooden skewers (find in grocery store, Dollar Tree, etc.)
- Shredded red paper crinkles
- Pencil vase or another simple vase to hold your apple pops
Step 1:
Melt your chocolate in a double boiler following the instructions on the candy melts bag. Spoon chocolate into your cookie mold, filling about 1/3 of the mold cavity. Place your Double Stuff Oreo into the mold and press into the chocolate, making sure the Oreo is slightly lower than the top of the mold and level.
Step 2:
Spoon more melted chocolate over your Oreo to cover. Tap your mold onto the countertop to make sure the chocolate slides down the sides of the Oreo and to remove any air bubbles. Repeat Steps 1 and 2 until your molds are filled.
Step 3:
Using the back side of a knife, scrape the excess melted chocolate over the mold to create an even surface of chocolate over your Oreo cookie.
Step 4:
Repeat step 3 over again until your molds are level and ready to place into the refrigerator for 10-15 to set.
Step 5:
Remove molds from refrigerator and slightly bend and tap the Oreos gently out of the mold.
Step 6:
Using your knife, cut off the excess chocolate around the base of your cookie.
Step 7:
Take the pointed end of your wooden skewer and gently twist it into the side of your chocolate covered Oreo until you've made a hold large enough for your skewer to fit into the cookie. Once the hole is large enough, dab a little melted chocolate onto the end of your skewer and insert it into your cookie.
Step 8:
Make another hole with another wooden skewer on the opposite side of your cookie for your apple "stem."
Step 9:
Place a small piece of pretzel stick in the hole with a little melted chocolate on it as well. This will help the pretzel stay in place.
Step 1:
Unwrap your Air Heads and cut a diamond-like shape with a sharp knife.
Step 2:
Mold the cut candy into a leaf shape using your fingers.
Step 3:
Using the back side of the knife, make a crease down the center of your leaf for "veining"
Step 4:
Put a dab of melted chocolate on the bottom point of your leaf and place it on top of your chocolate covered Oreo apple.
Step 5:
Press and hold the leaf until the chocolate sets.
Step 6:
Insert your apple pop in your cellophane party bag.

Step 7:
Add a small piece of green or red ribbon to the base of your apple pop and tie in a bow.
Step 8:
Insert your apple pop into a vase filled with styrofoam or green florist foam.
Step 9:
Add red shredded paper crinkles and you're done!
amandaparkerandfamily.blogspot.com