Beaded Dragon Curve Fractal Necklace - Rainbow
From
DragonNerd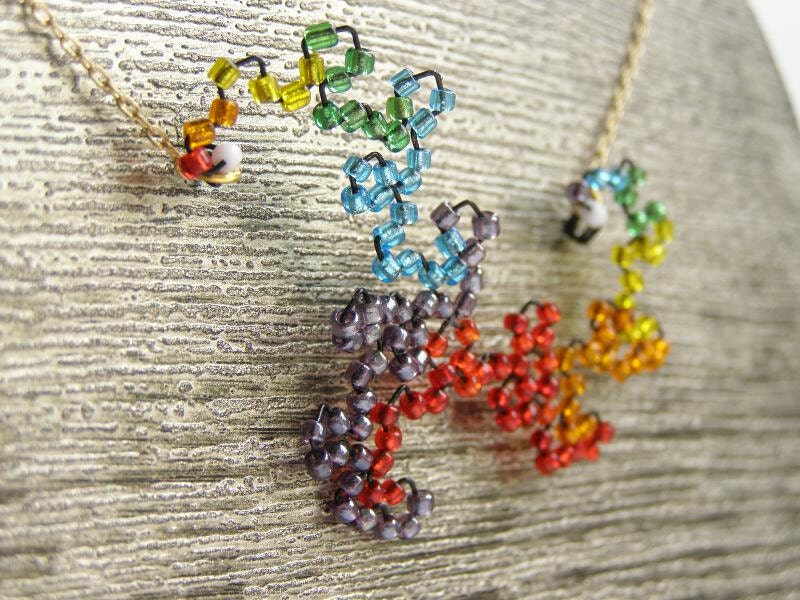 Simple Fractal Beauty. The only pattern in the Dragon Curve is a single 90 degree bend. Then you copy the entire pattern. Then you copy it again, and again, and again... Simplicity itself, but a wondrously complex image comes from it. A beautiful demonstration that something simple can easily become joyfully complex.
This necklace is perfect for both your inner math geek or your extrovert fashionista.Glass Beaded Dragon Phone/Key/Purse Charm
From
fiberaddicts
Beaded Dragon
From
lineofbirds
Measuring 4" nose-tail, 2.75" wing-wing, these diminutive dragons are sure to win your heart.
Created with silvered enameled copper wire skeletons, and 8° seed bead flesh, (with smaller bead details), they are charmingly poseable.
Hang one in your window to melt the last of winter's frosty chill, or from your rear view mirror to fly along on a road trip. They have a great sense of direction, and know how to read a GPS. Mine love to perch atop my computer monitor, ready to swoop down onto my keyboard, startling me out of my daydreams.
They are also great garden helpers, each one consuming it's weight in aphids each day from your roses, providing the fuel they need to scorch other scary or harmful garden pests, without harm to your plants, unless you are in the habit of using flammable pesticides. They've even been known to singe the hair from unsuspecting rodents, sending them fleeing-naked and ashamed into the wilds.*
Each dragon is lovingly created according to your request, so allow 10 business days to maturity. Shipping times vary depending on your location, but may take up to 14 days, and even longer near the holidays. Please note me if you plan to order more than one, so that I can give you a time estimate - I am the sole employee.